Jessica deserves the center seat for a year!
Submitted by

Michi Bradley

on Thu, 08/13/2020 - 18:14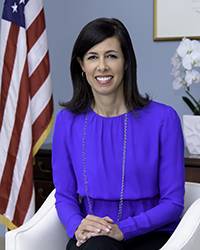 We are getting closer to the elections and as we do, we need to take into consideration that whomever is the majority party will select the Chairman and have three seats on the FCC with the minority having two.  
For a long time now, I was saying that if Trump was to win in November, I had Commissioner Michael O'Rielly pegged to be the next Chairman or at least acting Chairman.  This is based on "talk" that suggested that Chairman Ajit Pai may step down from the FCC after January, 2021, regardless of who won the election.  As much as I opposed O'Rielly's statements, especially those suggesting LPFM similar to pirate radio, I do feel that he is the most experienced.  Unfortunately, since he did not tow the Trump line on the Section 230 social media issue, he is not being considered to be reconfirmed at the FCC.  This leaves Brendan Carr, who, in my opinion, has not made any real monumental statements in regards to radio but is still the tenured commissioner.  
Now, let's look at a Biden victory.  The two Commissioners currently in the minority are Jessica Rosenworcel, who has been serving the FCC since May, 2012 and Geoffrey Starks, who was a career FCC person coming from the Enforcement Bureau.  On January 30, 2019, he took Mignon Clyburn's seat after a near-7 month vacancy.  Clyburn was an incredible woman at the FCC and I admired the work she did for diversity and community radio.  I had the pleasure of meeting her at the 2018 Grassroots Radio Conference in Portland, OR.
I honestly don't know Commissioner Starks that well and I wish we could get better acquainted.  His statements about radio, especially community radio/LPFM have been more reactive to a situation, but they are positive and evolving.  I do feel that I need to "groom" him on LPFM and community radio.  Hopefully, that opportunity will come soon and I look forward to it. I would love to have him on board as an ally. 
Commissioner Rosenworcel on the other hand is a senior Commissioner who has been very involved in issues regarding LPFM and community radio including visiting LPFM stations and doing everything she can to defend diversity.  Especially since the departure of Clyburn, Jessica has been LPFM and community radio's best friend in my book. 
I am not sure if Commissioner Rosenworcel is going to continue with the FCC after January but if she does, I really hope that Joe Biden gives her an opportunity to be acting Chairman until the end of her term.  That will allow some positive changes to take place at the FCC in the short time she's in the center chair and allows us to find the next Chairman, who will follow in Rosenworcel's and Clyburn's legacy.  I would even consider Starks at that time.  
Diversity in ownership has been further deteriorated over the years of the Pai administration at the FCC.  We must stop the hemmorrhaging and move towards a broadcast environment where diversity can flourish while not having it be a backroom benefit for NAB and big broadcast like we saw in Broadcast Incubator.  In addition to diversity, we need better spectrum management and the encouragement of the development and penetration of newer technologies such as HD Radio; and we need to eliminate the "unwritten rules" such as the ability to use an FM translator for the rebroadcast of an HD2 service under the guise of a "fill-in" service and we need to promote more community radio including LP-250, technical equality between LPFM and FM translators and improvements to engineering rules that are based on 50+ year old theory.  Putting Jessica in the center seat as Acting Chairman will set the stage for the next four years to revitalize the FCC and the rest of radio.  Thank you Jessica for your years of service. 
No matter who the President is next year, it would be nice if they were to appoint someone to the FCC who has a valid amateur radio license and understands basic engineering.  Would I consider being a Commissioner myself?  Perhaps.  I just need to build a very thick skin to deal with the GOP during the confirmation hearings.  We need an LGBT, especially T person on the FCC.  That would be awesome.